Uploading a Video to Internet Archive
I make no secret of the fact that OSCON is one of my favorite conferences. I try to speak at it whenever I can and do what I can to support its community. When I do get the opportunity to speak there, it's one of the most seamless experiences a tech conference speaker could ever hope to have.
Part of that seamlessness includes a speaker agreement which very clearly sets forth the expectations and responsibilities both of the presenter and of O'Reilly Media. My favorite part of that agreement is this clause:

What that says is that while I agree that O'Reilly Media has the right to sell its own access to the video of my presentation, I retain the right to distribute it for free as I see fit. This is a marvelous clause. It shows a deep respect for the speakers and their investment of time, effort, and sometimes financial expense to create and present the content at the conference. It's great that O'Reilly Media allows the speakers this freedom to distribute their content and is in line with the free/open/libre principles with which O'Reilly has become associated over their many years.
I typically download the videos of my OSCON presentations and make them available on (where else?) Internet Archive. This post will detail how other speakers can do the same. Most of this process will work for most any video to which you have the rights. That last piece is key. Do not upload videos of other speakers' presentations unless they have given you permission to do so.
Download your video
Naturally, before you can upload your OSCON video to Internet Archive you must first download it from O'Reilly. Duh.
One of the perks of being an OSCON speaker is access to the complete vault of that year's OSCON videos. This is a treasure trove of information presented by world-class speakers and technologists. If you haven't checked it out yet, I highly recommend setting aside a few hours to lose yourself in it and fill your brain.
All of these videos are available for download for subscribers to the vault and are entirely DRM-free, just like O'Reilly's books. Feel free to download all of them for your offline use, but please do the right thing and not distribute the ones to which you have no distribution rights.
To download your video, log into your O'Reilly account and navigate to your library. The OSCON video vaults to which you have access will be listed there.
If you have an ad-blocker enabled on your browser, you may need to disable it for the next step otherwise the necessary UI elements won't appear.
When viewing the vault for that year's OSCON, the videos are organized by track. If you don't remember which track your talk was in (I never remember this), you can just pop open all of the track accordions and use your browser's search function to find your name in the list.
To the right of your talk is a nice little download button. Click that, wait for the entire file to come down and, voila!, you have a video. Go ahead and turn that ad-blocker back on now.
Create an Internet Archive account
While, sure, you could upload your video to YouTube, vimeo, or some other free streaming service, in the spirit of open/free/libre and open access I always upload mine to Internet Archive. I used to work at the Archive, so I confess to no small amount of bias here. But who among us can argue with a mission of Universal Access to Human Knowledge? If you upload your video to the Archive you're guaranteed that it will be free (in all senses of the word) and accessible in perpetuity.
Internet Archive is an accredited library, so to upload to it you need a patron account. Naturally, as with any good library, patron accounts are freely available.
To create or access your patron account, vist the Archive and click the Sign In link. From here you can either sign in with your existing patron account credentials or create a new one.
Upload your video
While it's possible to use an API or a script or Python library to upload your file, today I'll describe how to do it using the Internet Archive upload tool.
Click the Upload icon on the Archive front page: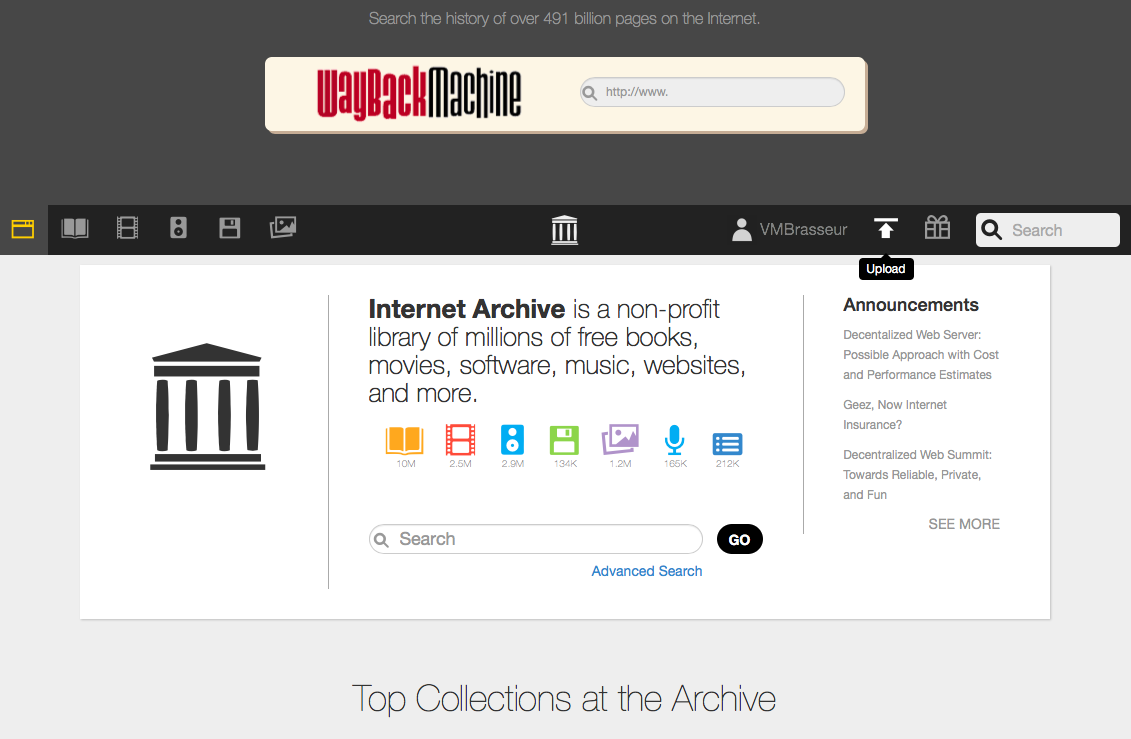 Click the "Upload files" button on the tool and then drag your file onto it: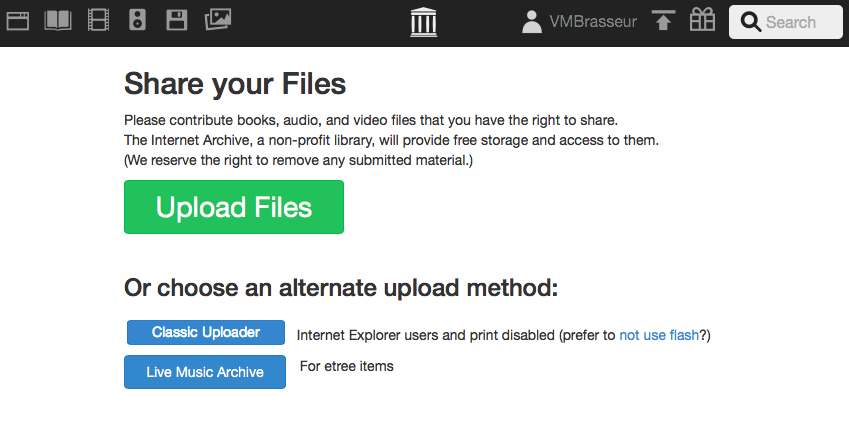 After doing a bit of parsing on the filename, the tool displays some metadata fields. Many of these are required to proceed: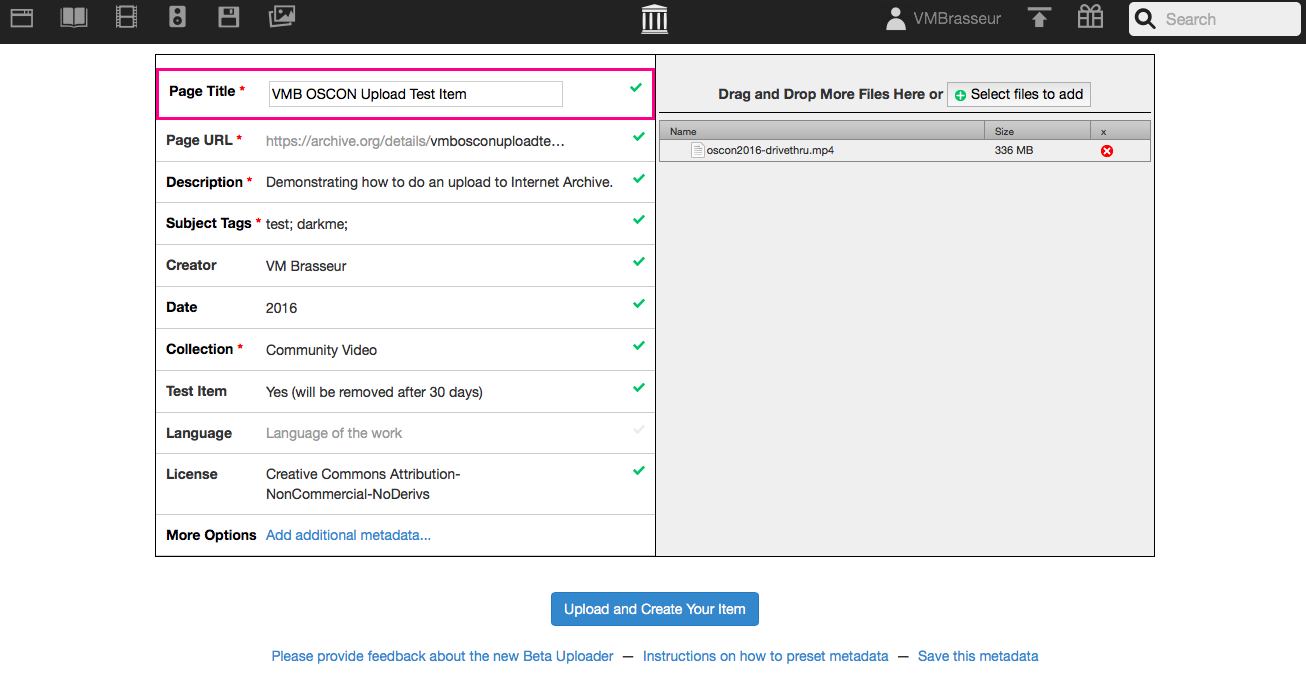 Enter the appropriate information then click Upload to start the process. The tool presents a progress bar while it does its work.

After the file upload is complete, the display changes to the Internet Archive page for your file: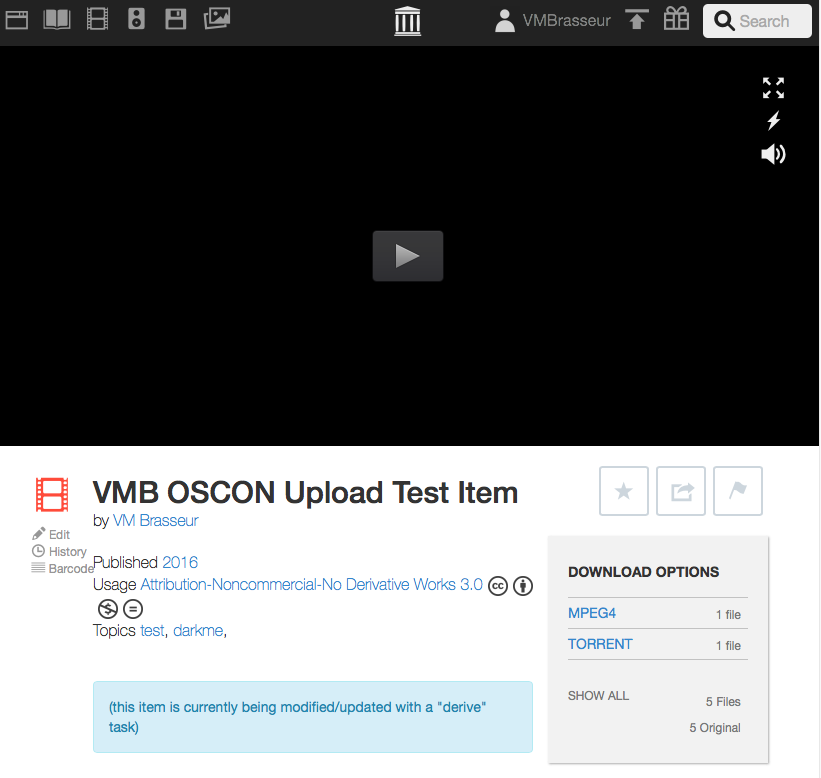 If you look at the box on the right side of the page you can see that the file is there and available for access. However, it won't be available for online viewing–nor can changes be made to this page–until the file receives further processing. Once that processing is complete, the file will be available for online viewing: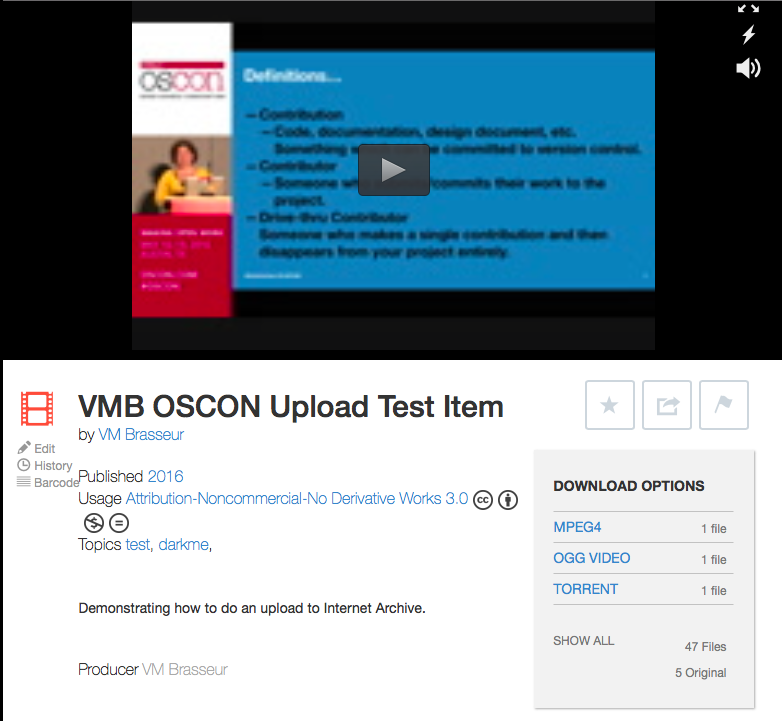 Voila!
That's all there is to it! Your video is now available for sharing. The Archive will preserve it and make it freely available in perpetuity. At this point you can click the Edit link next to the title and add or change both the metadata and the files in your Internet Archive item.